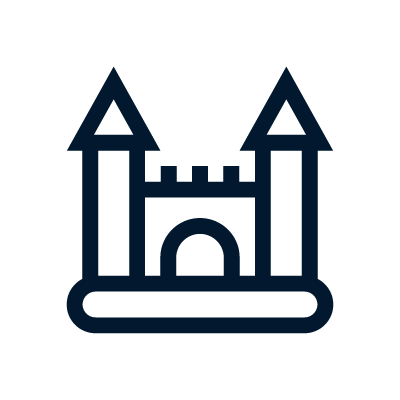 Jumping Castles
& Water Slides
BOOKINGS STRICTLY VIA WHATSAPP, SMS OR EMAIL
All prices valid for entire weekend from Friday afternoon up to Monday.
Weekly Special: Rent for one day and keep for two days at no extra cost.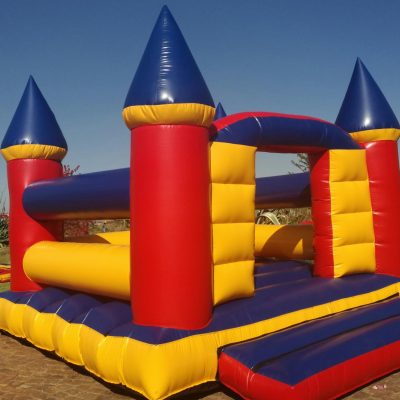 Standard Jumping Castle 3.75m x 3.75m
= R350
Jumping area with front castle walls, tarrits, safety side tubes and steps.
Pillow Bash 5m x 5m
= R400
Big Jumping Area with side wall all around and two pillow opstical with steps, can be used as giant ball pond.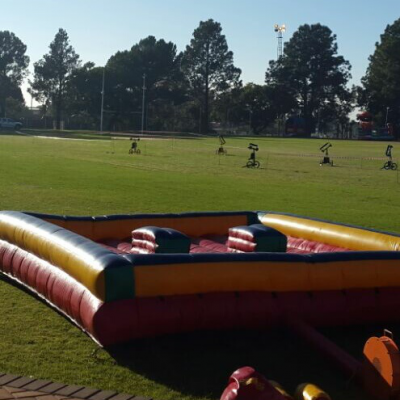 Pillow sticks x 2 (Gladiator sticks)
= R50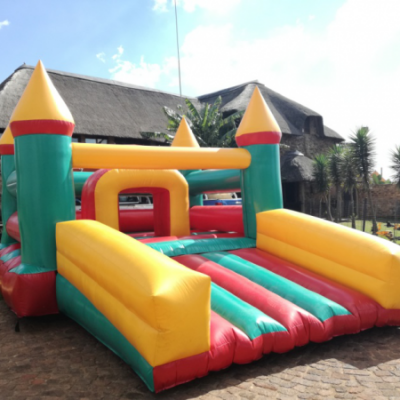 Jumping Area with opstical, side safety tubes, tarrits with slide in front.
JUNGLE GYM 6M X 8M
= R450
Jumping area, M- Opstical, Palm Trees, steps,  Climbing wall, Slide with top arena, roof and Pond to fill with water or balls. Can be used with or without water.  Winter and Summer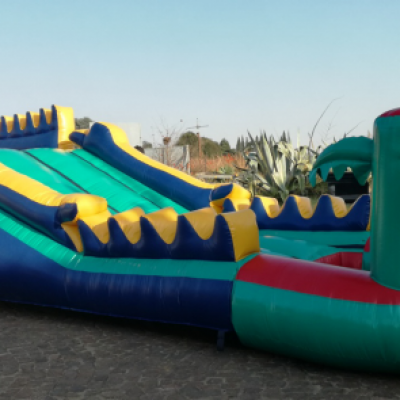 Dolphin Adventure 3m x 10m
= R450
Jumping area, side castle walls, opstical side circles to climb through, steps, climbing wall, slide with side dolphin and wave walls, pond area and palm trees.
Mini Adventure castle
= R300
Jumping area with dome, side safety tubes, steps, big pond can be used with water or balls, slide with sheet & safety walls.
JUNIOR GLADIATOR 1.5m high x 8m long
+ R350
Slide with climb area and pond
Double Waterslide 11m
= 400
Double slide with big pond to be used with liquid soap/ bubble bath and water.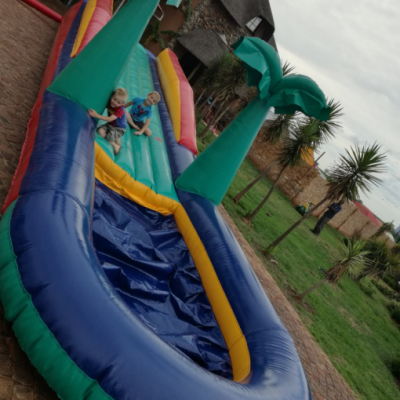 Sunny Funny slip n slide 14m
= R450
Waterslide with slope, side walls, palm trees, big pond area.
WATCH THIS SPACE... MORE EXCITING RENTALS TO FOLLOW SOON...
ONLY PAY DOUBLE RENTAL PRICE AND KEEP INFLATABLE FOR CHRISTMAS WEEK!!!!! HURRY BOOK NOW TO AVOID DISSAPOINTMENT. DEPOSIT WILL BE REQUESTED TO FINALISE YOUR BOOKING FOR THIS SPECIAL OFFER.
ONLY PAY R100 EXTRA AND KEEP INFLATABLE FUN ITEM FROM 29TH DECEMBER – 2ND JANUARY.
WE DO DELIVER, SETUP AND COLLECT AT AN ADDITIONAL COST IN REASONABLE RADIUS. PLEASE CONTACT US, SEND YOUR ADDRESS AND LOCATION FOR A QUOTE
MANUFACTURING AND REPAIRS
We Specialize in Manufacturing & Repairing Jumping castles, waterslides, gladiators, giant slides and other inflatable's for several companies, big and small. Always expect friendly and professional advice and service from our staff.  We pride ourselves in having endowed with vast wealth of knowledge and experience in the children entertainment and learning environment.
Contact us and bring your inflatable for a free quotation.  We can collect it in order to quote at additional fee in certain radius.
If you would like to purchase a newly manufactured jumping castle, waterslide, bag or blower please contact us for pricelist and more info.
We do have pre-loved (second hand) inflatable's for sale from time to time.